10 best gaming keyboards of 2017
Though you might think of them as expendable and buying the wrong one as inconsequential, the keyboard is the pen and paper of PC gaming. Picking the right one for you can dramatically improve your experience or even grace you with fancy trimmings like a light bar built into an aircraft-grade aluminum finish.
To help you decide on everything from key switches to wrist rests to LEDs, we've devised a list of the 10 best gaming keyboards spanning any player's taste and budget. Every one of the keyboards listed is a mechanical powerhouse equipped with everything you need to pull off killstreaks and headshots and, ultimately, take home the gold.
Even if you game casually and on a budget, we've got you covered. Whether you spend your evenings whisking away in World of Warcraft or moving the payload in Overwatch, there's bound to be something that suits your needs. Otherwise, feel free to leave recommendations for future entries in the comments below!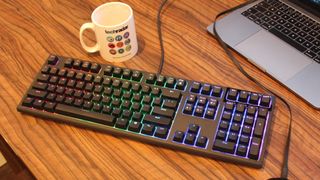 1. Topre Realforce RGB
The best keyboard for gaming and typing
Interface: Wired | Keyboard backlighting: Yes | Programmable keys: Yes
Incredible Topre keyswitches
Gorgeous RGB lighting
Variable actuation points
Solid build quality
Cherry MX and Topre keycap stems
No included wrist rest
No included keycap puller
The Realforce RGB from Japanese company Topre brings so many innovations that it's difficult to know where to start. This is a multi-talented keyboard that feels incredible to type on thanks to its capacitive Topre keyswitches, which offer superior tactile feedback compared to Cherry MX variants (they're closest to MX Whites in feeling.) You can type for an entire day and experience minimal finger fatigure on the Realforce RGB, though you should pick up a decent wrist rest to go with it.
The Realforce RGB, which comes with high-quality (and thick) PBT keycaps, is equally primed for gaming thanks to Topre's clever software which allows you to change the actuation (or distance you have to press keys before they register) depth from 1.5mm (for gamers with fast reflexes) to 2.2mm and 3mm (for improved typing accuracy). The result is a hugely versatile keyboard that suits whatever task you're doing at the time. And, like Cooler Master's Novatouch, the Realforce RGB has keyswitch stems that are compatible with both Topre and Cherry MX keycaps, allowing you to chop and change your keycaps at will.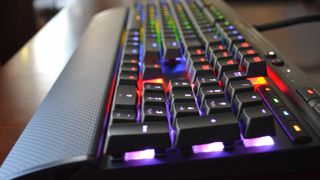 2. Corsair K70 RGB Rapidfire
This mechanical animal has cheetah-like speeds
Interface: Wired | Keyboard backlighting: Yes | Programmable keys: Yes
Super-responsive keys
Beautiful RGB lighting
Overly sensitive for typing
Heightened keys require a wrist rest
Corsair's K70 RGB Rapidfire keyboard is all about speed. Featuring Cherry's new linear MX Speed Switch, its keys are highly responsive and take only a slight movement of the finger to press them down. The switch actuates at just 1.2mm, with a light actuation force of 45g. The super-sensitive Cherry MX Reds, which are a sensitive keyswitch anyway, are not very suitable for long typing sessions. However, if you're into first-person shooters or any game that requires fast reflexes, the K65 RGB is equipped for the job. The full-length K70 RGB Rapidfire is also available in a tenkeyless version called the K65 RGB, which is easier to transport and slip into a bag to take to LAN parties. Like its larger sibling, the K70 has beautiful customizable RGB lighting.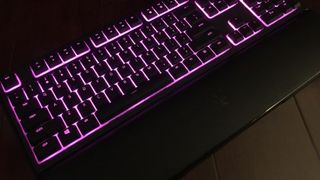 3. Razer Ornata
Combining mechanical and membrane into one
Interface: Wired | Keyboard backlighting: Full color | Programmable keys: No
Tactile and clicky actuation
Magnetic plush wrist rest
Short key throw won't jive with everyone
For too long there's been a divide between mechanical and membrane keys but now Razer has finally brought the two together with its 'Mecha-Membrane' Ornata keyboard. These new switches pull from everything Razer has learned over the years. The result is a grand typing experience with shorter keys, the tactile feel of the green switches from the Blackwidow X Chroma and a loud audible click. Just like its other products, the Ornata features a fully customizable, per-key backlight and it comes with a plush pleather wrist rest too.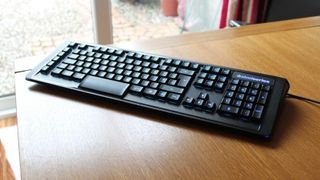 4. SteelSeries Apex M800
Keeps a low profile
Interface: Wired | Keyboard backlighting: Yes | Programmable keys: Yes
Responsive, low-travel keys
RGB lighting
Typing takes some getting used to
Plasticky build
Billed as the fastest keyboard in the west (and the rest of the world for that matter), the Apex M800 feels different to type on than just about every other keyboard out there. That's because of its incredibly responsive QS1 keyswitch featuring 1.5mm key travel and 45cN actuation force. Its low travel and linearity lend it a similar feel to Cherry MX Reds, but with less effort to strike each key. This makes the Apex M800 a great keyboard for gaming, but its membrane-like keyswitch means you'll need to take some time adjusting to it when it comes to typing – especially if you've come from a tactile keyboard with Cherry's MX switches inside. The M800's individually-lit keycaps are easy on the eye and the M800's six left-positioned macro keys help you fire off spells and switch weapons in a snap.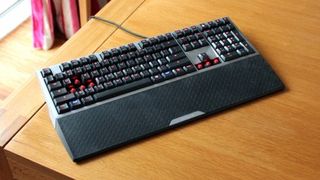 5. Cherry MX Board 6.0
An all-metal affair
Interface: Wired | Keyboard backlighting: Yes | Programmable keys: Yes
Excellent typing feel
Comfortable low profile
Lacks extra features
Cherry's flagship MX Board 6.0 features a lower profile than other gaming keyboards like the Razer BlackWidow X Chroma, making it perfect if you prefer to type and game using a wrist rest. Cherry's MX Red switches under the keys lend the MX Board 6.0 fast response times, but because the keys are positioned fairly close together they're excellent for typing too. Housed in an eye-catching aluminum chassis, the MX Board 6.0 certainly doesn't feel cheap and its blood-red key lighting is deliciously ominous. It's a mechanical keyboard that's also suited for the office.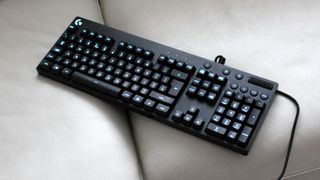 6. Logitech G810
A minimalist gaming weapon
Interface: Wired | Keyboard backlighting: Yes | Programmable keys: Yes
Satisfying Romer G switches
Minimal design
No USB pass-through ports
Logitech has followed up its Orion Spark G910 mechanical keyboard with the G810, which arrives with a refreshingly grown-up feel. Sporting Logitech's own Romer G switches, which aren't quite as squishy as Cherry's various switches, the G810 possesses a snappier feel than other gaming keyboards whether typing or gaming. Featuring smart media keys that work equally well on both Windows and OS X, Logitech's latest keyboard is a solid all-round offering. If you're fed up of the weird markings, LCD screens and strange parts that come with competing "gamer-focused" keyboards, the G810 might be for you.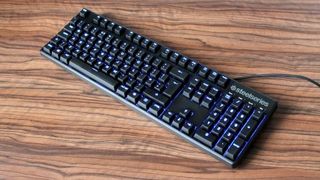 7. SteelSeries Apex M500
A great bit of no-frills gaming kit
Interface: Wired | Keyboard backlighting: Yes | Programmable keys: Yes
Minimal design
Attractive blue backlighting
No media keys
Cherry MX Reds only
Many mechanical keyboards are gaudy and unwieldy, aimed at gamers on the, err, ostentatious side. That's not the case with the SteelSeries Apex M500. Like the Logitech G810, the Apex M500 eschews unnecessary bells and whistles in favor of clean design and bare essentials. While it's lacking media keys, macros and other such extras, it benefits from a compact design that wastes no space. Tailored towards e-Sports, its minimal leanings are refreshing and it looks great sat on a desk, accompanied by the right monitor and mouse of course.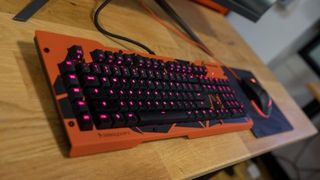 8. Division Zero X40
Steeled for online gaming
Interface: Wired | Keyboard backlighting: Yes | Programmable keys: 5
Thick top covers
Clicky or silent keys
Side positioned macro keys
No volume wheel
Known primarily for its brand of professionally-geared keyboards, the X40 stems from Das Keyboard's latest Division Zero gaming line. With the option of silent or clicky, tactile keys, the Division Zero X40 takes advantage of Das' own custom Alpha-Zulu switches. For those accustomed to Cherry MX Reds, these will seem eerily familiar. Other functions include an arrangement of five programmable macro keys, LED backlighting, USB pass-through and even a gaming mode designed to disable that pesky Windows key when you're in your zone. Making this a deal you can't ignore, the X40 is one of the hardiest, most rigid keyboards around, thanks to its swappable aluminum panels.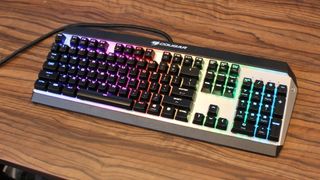 9. Cougar Attack X3 RGB
One of the toughest keyboards goes RGB
Interface: Wired | Keyboard backlighting: Yes | Programmable keys: Yes
Solid aluminum build quality
RGB backlighting
No wrist rest
US keyboard layout only
Cougar's Attack X3 was one of the better affordable mechanical gaming keyboards of recent times thanks to its rugged aluminum body. Its successor, which is also forged from a block of aluminum, is every bit as robust and is once again available with Cherry MX Black, Brown, Red or Blue keyswitches depending on your typing preference. Its durability is aided by a braided cable, which sports two USB connections which are used for input and lighting. Features include N-Key rollover, a 1,000Hz polling rate and rubber feet on the bottom that prevents slipping. Corsair's software is a little rough around the edges and the Attack X3 RGB only comes in a US keyboard layout, but if you're seeking an affordable alternative to flagship keyboards like the Corsair K70 RGBs of this world then it's a tempting option.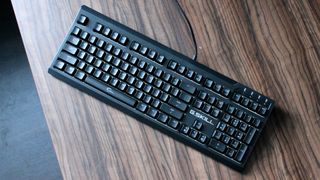 10. G.Skill Ripjaws KM570
A solid entry-level offering with Cherry Reds
Interface: Wired | Keyboard: backlighting: Yes | Programmable: keys: No
Affordable
Cherry MX keys
Red backlighting only
Although not quite as compact as the HyperX Alloy FPS, the latest mechanical keyboard to come from relative gaming peripherals newcomer G.Skill won't hog all of your desk. Delightfully minimalist, the RipJaws KM570 brings a solid basic feature set, one that includes N-key rollover (allowing multiple keys to be pressed simultaneously, only-the-fly macro recording to any key), and Cherry MX Red keyswitches with a 45-gram actuation force and 2mm actuation point, all at a reasonable price. Its affordable nature means you'll only get red backlighting, rather than full-RGB, and you won't find any programmable macro keys here either. Still, for the full Cherry MX experience at this cost, we're prepared to let that slide.